It´s a submarine,

What´s in it?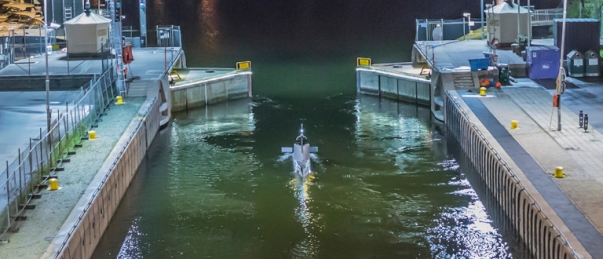 UVS 1300 Malen basic facts:

Length: 10 meters

Weight on land: 8,7 tonnes

Occupancy: Three passengers + Captain

Width: 1,4 meters

Crush depth: 500 meter

Design depth: 200 meters

Normal operations depth: 60 meters

Buoyancy and balance control: 2 trim tanks, 2 ballast tanks, hydraulic keel weight

Navigation: Sonar, echo sounder, log, GPS, AIS, VHF, electronic periscope

Propulsion: Diesel-electric (44+20HP)

Swedish Commercial Registration number: SFD-2188


History

The submarine was built in 2006 by Submare Technologies in Sweden. The submarine was supposed to be used as a sonar target for the Swedish Navy. Due to cutbacks, the submarine was never put into service. The submarine was taken out of the water after only three years of testing. Malen was bought and overhauled by us in 2013 and is now used in various civil missions including research, inspections and tourism.

How does a submarine work?

When operating on the surface, all four ballast and trim tanks are filled with air and the submarine weights, or displaces the least in this configuration. When submerging, the trim and ballast tanks are filled with water to make the boat heavier, or displace more until the weight of the submarine equals or exceeds the weight of the displaced water. Our submarine has 48 different valves controlling the flow of the water and air into the buoyancy tanks and other systems.